By admin on Thu, 09/01/2011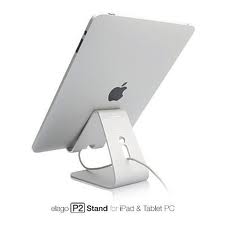 If you are a person that doesn't like a lot of bulky folio cases I have the ipad 2 stand for you.  On the other hand, if you like your ipad protected with a folio type case.  This case can be used in conjunction with other types of cases to protect your ipad also.  I really enjoy using the Elago P2 ipad stand.  It's simple to use and keeps your ipad position so you can view it with ease.  It cuts the amount of space needed on your desk to lay your ipad.    The stand platform is approx. the size of the palm of your hand.  Rather than clearing a space the size of your ipad to lay it on your desk.  You only need a space size of the palm of your hand to use this stand.  I keep my stand close at all times.  I am currently using several different types of cases with my ipad 2.  I haven' found any ipad cases so far that doesn't work with the P2 stand.  I have used the P2 stand with my iphone and other tablets too.  This is a case of many purposes.  I believe any person or office will find this stand useful.
Pros:
Master your iPhone in one minute a day:
Sign up to iPhone Life's Tip of the Day Newsletter and we'll send you a tip each day to save time and get the most out of your iPhone or iPad.
Easy Use
Affordable at $29.99
Works with most ipad cases
Cable hole to keep cable out of the way
Very Strong made of aluminum
Don't have to remove ipad from case
Light
Great viewing position
Helps organize desk
Use with other tablets
Cons:
No Stylus Holder
Can be tipped over easily
iPad doesn't lock into place
I am a true fan of the Elago P2 stand.  This will always be a stand you find on my desk.  It helps organize your desk and positions the ipad so it can be viewed with ease.  If you think you would like to purchase your own visit http://www.elagodesign.com .  You will be very happy you did.  It helps organize any desk and keeps the ipad positioned to view much easier.  Let me know how you like your stand in the comments below.
Thanks,
Mitch Stevens
www.iphonecaptain.com