By admin on Wed, 08/31/2011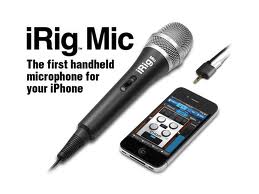 Have you ever thought of yourself as a performer? Would you like to have a convenient way to record your own singing? The iRig Mic is a simple and easy way to do this. The iRig mic is compatible with the iphone, ipod, or ipad. Do karaoke with your friends, interview others, podcasting, and even video recording. This is a small device but powerful. It has an adapter that plugs into the headphone jack of the idevice. You can plug your headphones in to the adapter allowing you to be able to use your headphones while using the microphone together. The microphone has three different levels to set the sound.
The great thing about the iRig is the free applications available for download in the app store. They have an app for the singer, musicians, or podcasters. The app I have using most is called the iRig recorder. It makes recording interviews very simple. I did however play around with the other applications. I don't consider myself a singer or musician but understanding how to use these applications was very simple. Vocalive is an awesome application for singers. It allows the singer to adjust the vocals many different ways. If you consider yourself a musician and singer together you can record your own tracks any place or time. The true vocalive effects come with the paid version which is extremely expensive at $19.99.
Regardless of price it does have twelve vocal presets, studio quality recorder sound, and fifty presets including metronome and vocal warm-up tools. This application is for the more serious person who plans to use the idevice for recording music, interviews, or podcasting. If I were going to be a more casual user or just karaoke I would settle for the free version. The paid version is for the more professional users and a bit pricey at $19.99.
Pros:
Free Apps for recording
Includes everything needed to perform
Affordable
Works great with GarageBand
Cons:
Some features of the apps sound quirky
To get the best sound of Vocalive you must buy the paid version $19.99
Vocalive to expensive
This device has the capability to make sound tracks, record voice or instruments together. If you plan to use the irig to record voice or instrument tracks I would invest a little more money to buy the iKlip. The iKlip attaches the ipad to the microphone stand. If you are doing karaoke you can read the lyrics from the ipad as you sing. Awesome way to use the device as a monitor for reading your notes as you interview or do podcasting. Get it right the first cut by reading it from the idevice that's attached to the microphone stand with the iKlip. If you want to purchase your iRig mic or iKlip visit www.ikmultimedia.com. Leave a comment.
Thanks,
Mitch Stevens