By admin on Tue, 09/27/2011
The iPad 2 has been around for several months now.  However, it is still a competitive  world in the market of iPad accessories.  The iPad user could be easily overwhelmed by all the available stands or cases available.  I would definitely recommend doing some research to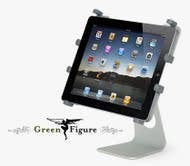 have an idea of whats available and what you are expecting of the stand or case. 
  The market has several options to choose from today.  Do you prefer a stand and or stand.  Some companies combine the two others do not.  The iPad is a very productive and efficient device.  It is very capable of word processing and many other task.  The stands are very useful if you plan to do much typing or want to watch movies, for example.
Master your iPhone in one minute a day:
Sign up to iPhone Life's Tip of the Day Newsletter and we'll send you a tip each day to save time and get the most out of your iPhone or iPad.
  The stand I want to introduce you to here is by Pyramid Distribution called Green Figure iHolder.  Simply known and referred to as the iHolder.  It's a very useful and inexpensive stand for many iPad uses.  If you are looking for a stand to hold your iPad 2 while you watch a movie or type a document for example.  This is an awesome choice for any user.  The iHolder has several nice features. The best part about using the iHolder is view ability.  It allows the user to position thew iPad 2 to three locked angles and can swivel from portrait to landscape view with no problem.  That has been the greatest deterrent of many stand I have used.  They can't transition from landscape to portrait without removing the ipad  2.  this stand can do that with no problem.  It has a whole in the center of the leg that holds the stand for cables.  this keeps all the cables or charging cable for the ipad out of the way.  It has tabs on all four sides that securely holds the ipad into place for either landscape or portrait position.  The stand is made of metal and has adjustments on the left and right side of the stand that hold the ipad in position.  The best this about this stand is its very easy to use with other folio type cases.  I currently use the Zoogue "Genius" iPad 2 Case and don't have any problem using the stand in either viewing position.  The tabs on the side allow the stand to be adjusted to however you need to hold it in place.  So you have the best of both worlds with the stand and being able to use a case simultaneously.
Pros:
Usability
Can be used in both landscape or portrait
Inexpensive
Three lockable views
Easy to transition from Portrait to Landscape mode
Hole in Leg for cable
Cons:
Stand platform needs to be a bit wider to make more stable
Can't be used with any type of case but some
Overall, I think this is a nice stand.  It could be improved but its worth buying.  It's the most user friendly stand I have used so far.  It doesn't take a genius to put it together.  That's the down side of many stands on the market.  They are very difficult to put together.  I have an acronym I try to live by so these iPad companies need to tattoo it on their forehead, K.I.S.S. It stands for Keep It Simple Stupid.  That can be applied to anything your doing.  If you would like to purchase the stand visit http://www.pyramidistribution.com. Feel free to leave a comment.
Thanks,
Mitch Stevens