By admin updated on 10/20/2011
The RAT stand is a telescopic, no knobs, or small pieces to lose type stand.  It can be used for many different occassions or activities. It works for both the ipad versions.  This is one of the most versatile stands on the market today.   I have been amazed at just how many different occassions I have been able to use the stand.  Though it has many different uses being a teacher I can use this stand daily at school.  It's a great stand to have for  school related activities.  I have found as a teacher, I can bring my ipad to school every day without worrying about a student dropping it in the floor.  I actually had that happen more times than I care to mention.  If you are a musician and use the ipad while you play music this is a no brainer.  It makes using the ipad a no hands needed activity.  A carrying case can be purchased separately to carry and protect the case.  This is one of my favorite features of the stand.  I enjoy being able to throw the stand in the carrying case and go on my way.
  The RAT stand can be set up in three moves.  The telescoping leg easily slide in/out for set up or getting ready for travel.  The thing I like best about the stand is the security it provides for holding the ipad.  You don't have to worry about dropping the ipad while your presenting or playing music.  It allows the presenter/musician to speak or play without worrying about the ipad.  I recently attended a conference were a person was presenting with an ipad.  The presenter had to carry the ipad to keep it within reach.  As the presentation went along he would lay the ipad in different locations.  When he needed the ipad he would have forgotten where he laid it last.  I thought to myself this guy needs the Rat stand.
Master your iPhone in one minute a day:
Sign up to iPhone Life's Tip of the Day Newsletter and we'll send you a tip each day to save time and get the most out of your iPhone or iPad.
From Their Site Directly: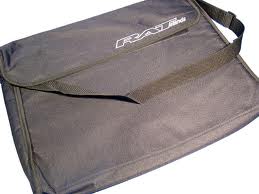 The height of design
The Z3 is versatile, lightweight, convenient and folds flat in just 3 moves. Its telescopic stem combined with a joint allowing for the alteration of the iPad's angle means the device can be held without compromise in any scenario. This extremely stable stand is fitted with a cradle customised for the iPad, ensuring the tablet is completely secure and can be inserted or removed with ease. 
Telescopic stem provides a huge range of heights.
Adjustable cradle angle enables the stand to be used in any position. Z3 also incorporates 360 degree rotation for use in landscape and portrait modes.
The stand raises high enough for a trumpter, yet low enough for the youngest cellist. 
• The Z3 stand can be unfolded with its base reversed if required. 
• Stands nestle together when standing to save space. 
• No knobs to fiddle with or lose and the stand will never go slack. 
• Folds flat in 3 simple moves for storage and portability.
Diecast aluminium legs with super-tough scratch resistant epoxy coating give enormous strength with low weight. Rubber feet preserve your floor and prevent clatter if the stand is knocked.
The anodized aluminium stem is very strong, rigid and light. This stand doesn't sway, and yet can be adjusted smoothly and easily.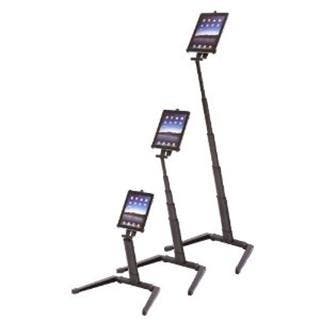 Maybe you're not a teacher, lecturer, or musician but this stand can still be helpful.  I like to make videos and sometimes need to video my ipad 2.  This is a great way to accomplish this task professionally with ease.    These are just some of the situations I have found the Rat stand helpful.  There are hundreds of other ways to use the stand. 
  However, this stand was made with musicians in mind.  So like I have already said, if you enjoy using the ipad while playing music or singing.  This is a dream stand for those activities.  You can concentrate on the music without focusing on the ipad. This is a great stand for many types of activities.  If you would like to read more about the stand or purchase your own visit www.ratstands.com.
Thanks,
Mitch Stevens