By admin on Tue, 02/14/2012
Technology has become a great part of all of our daily lives.  Things such as cell phones, earphones, and other tech products are with us every place we go throughout the day.  These items can be used to reflect our individual character or personalities.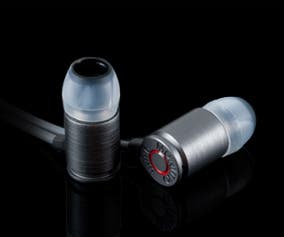 Being an avid sportsman and gun owner, the new Munitio Billet 9mm earphones are a great way to reflect that personality. Not only do they reflect your personality they produce high quality sound as well. The Munitio Billet 9mm earphones resemble a 9 mm shell casing.  Each ear bud is about the same size as a real life 9 mm shell casing. They fit comfortably inside the ear canal and produce high quality sound from all genres of music. I have personally tested these earphones on several different styles of music and did not find any problem with sound quality on any types. They include three different size ear tips which ensure you get the best the fit for your own individual ear canal.  They do a superior job blocking exterior noise enabling you to better here your tunes.  They come in two different models.  The Billet style earbuds are the type I have been using and reviewed here.  The SITi model are made of titanium and much more expensive starting at $159-$179.
Master your iPhone in one minute a day:
Sign up to iPhone Life's Tip of the Day Newsletter and we'll send you a tip each day to save time and get the most out of your iPhone or iPad.
Features:
·       9mm speaker drivers with rare earth neodymium magnets for superior dynamic range and quick recovery
·       Precision-machined lightweight aluminum billet components with high strength, anodized for durability
·       BassEnhancingChamber™ engineered to produce the tightest, most accurate bass without distortion
·       Custom-tuned Sound Flow System for the smoothest mid to high frequency response while minimizing ear fatigue
·       In-Line Microphone
Some of you may be worried about traveling through airports or buses with these. You can be your on judge about that.  I'm not much on the "spread em" or the glove test myself.  On a more serious note however, I did read where an individual was traveling while using the Munitio earphone.  Much to my surprise the article said he did not have any problems. I don't know that was a good or bad thing but they did get through security with the earphones. I don't believe the x-rays they use in airports are looking for particular shapes as much as they are certain kinds of substances. So you can be your own judge of that. The Munitio earphones can be purchased at www.munitio.comfor $69 feel free to leave any comments below.
Thank you,
Mitch Stevens