By admin on Thu, 10/20/2011
iAudition is an application designed for recording using the iphone, ipod, or ipad.  This application makes voice recording from your 
iphone and other idevices a breeze.  When you open iAudition it open to the simplest user friendly interface you have ever used.  If you need to make an audio memo to send someone it as simple as recording it and tapping send.  The user interface has three main categories across the bottom, they are send, edit, and delete.  Through these categories you can perform any task and make audio recordings of any kind as needed.  It keeps all your individual recordings in a list for easy access.  To email or upload simply tap the audio recording of your choice and select email or upload.  It is very simple to use.  It doesn't require the user to read a manual or watch any long, boring, instructional videos to understand.  It's very simple to edit the recordings  before sending them to friends or collegues.  It offers a cut and paste function.  If you need to cut three seconds from the middle of the recording, no problem.
  If you are a musician or singer this app is a must.  It will allow you to make demo's right from the iphone and send them through email immediately to whomever you choose.  If you are building a audio library online iAudition has an ftp server upload feature as well.  This will make using the application suited for any type of situations.
   So if you need an application to record from the iphone it doesn't get any simpler than iAudition.  However, the longer recordings did lose connection a couple times on my iphone.  Maybe this was something I was doing wrong.  I really don't know.  It lost connection about half way through the upload and I had to start over.  Finally it did upload the recording and sent it through email.  I have used several different kinds of audio recorders for the iphone.  I  have give credit to iAudition.  This is one of the simplest recorders I have used so far.  I did have a couple glitches but overall its worth the purchase, $5.99. To download iAudition now click here.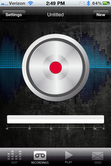 Master your iPhone in one minute a day:
Sign up to iPhone Life's Tip of the Day Newsletter and we'll send you a tip each day to save time and get the most out of your iPhone or iPad.
Thanks,
Mitch Stevens