By admin on Mon, 08/22/2011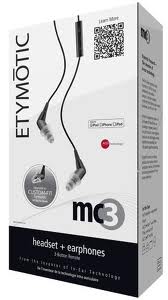 In a competitive market where quality and price must be top notch.  The Etymotic mc3 earphones are a great buy at under $100.  These earphones have a lot to offer the smartphone and Apple user.  The mc3 earphones are made specifically for the Apple ipad, ipod, and iphone.  They are a great pair of earphones for the average user.  But if you are looking for booming bass.  This is not the pair of earphones for you.  However, if you are looking to find an earphone that allows all frequencies to be heard equally look no more.  These are great earphones for that very user.  They are not the hard hitting bass level or blow your head off decibel levels.
  Etymotic also has an app for these earphones called Awareness! For Etymotic.  It allows the user to hear background noises while listening to music. Things such as the doorbell or someone talking.  The use for this type of application is endless.  I am always listening to music with earphones.  So now my family can talk to me and I will hear what they say.  That is, if I want too.  They might think I can't hear and say something I find interesting.  So you see there is any number of ways to use this.  It has    several settings to adjust for each individual needs. This app could even save a life by allowing the user to hear background noise.  You could here a car or need to get out of the way when someone screams, 'look out".  Awareness For Etymotic is an awesome app that allows hf3 and mc3 users to hear any sound louder than normal background noise to be heard.  Check it out in itunes.
  I listened to several different types of music and didn't find any one type sound better or worse than the other over these earphones.  Even with the rapping music the bass levels were adequate.  I even turned them up as loud as they would play.  There was no distortion at all on the top end.  They come with several different tips and a nice zippered carrying case.  They have a built in mic for making and receiving calls while wearing them without the need to take them out.  I found this very convenient.  However, the controls where in a bit of an awkward position.  This is by no means a deal breaker but it wouldn't be a big deal to position the controls further down the line.  I also enjoyed the 48 inch cord.   This is a major plus if you use these while sitting at a desk and moving around.  It allows more freedom to move around without having to move the phone.
Master your iPhone in one minute a day:
Sign up to iPhone Life's Tip of the Day Newsletter and we'll send you a tip each day to save time and get the most out of your iPhone or iPad.
  If you want your own customized pair of earphones for an additional cost Etymotic can do it.  You simply fill out a form on their website and visit a network audiologists for a custom fit.  This is the same strategy musicians and singers use to get custom fitting earphones to use while performing.  I didn't find the need to have mine customized.  I found them to fit quite comfortable.  If you want to purchase a pair of Etymotic earphones visit www.etymotic.com.  Feel free to leave your comments.
Thanks,
Mitch Stevens
www.iphonecaptain.com