By admin updated on 08/05/2011
Favorite iPad Note Taking Apps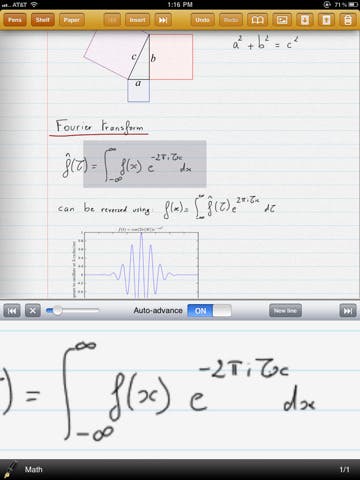 Notetaking has become a big deal in the ipad community.  I have seen several statements made that the ipad 2 will replace pencil and paper at school.  I can see how this could be possible.  Being a College graduate of a "few" years ago.   I would have appreciated not having to carry all the textbooks and paper to write on inside my backpack.  Most times I even had a separate notebook for each class.  This can get heavy very fast.  So I do see how this is a practical need and not just trivial. 
   I have also read that certain textbook companies are offering their text in ebook format.  So if we can get the text online in an eBook type format and a note taking app that we can write our notes on and even record the lecture.  I think this is going to be an awesome step in a positive direction for technology.  The ipad is a powerful tool if you stop and think about all the things you can do with it.  The only drawback I see at the time with the ipad is the amount of storage we have.  But if iCloud does what it is suppose to do,  we won't have to worry about the storage problem anymore or sharing files.  It's already possible to link your ipad with applications like dropbox and sugar sync.  These apps are already offering storage in the "cloud". 
  I am going to share some of my favorite Notetaking apps.  I think using these apps could eliminate the need for pencil and paper.  My favorite notetaking app is called GhostWriter.  This is the simplest app I have used to take notes in a handwritten format.  It comes with a bookshelf to keep all your notes organized.  You can also import and export PDF files.  If you want to write or annotate a document, GhostWriter makes this possible.  The app cost $1.99 in the ITunes App store.   Another one of my favorites note taking apps is noterize.  It just recently dropped to free in the app store.  It makes writing with a stylus or your finger a breeze.  It also allows you to share documents with dropbox.  This is very helpful if you need to import a pdf document to annotate or import a photo within your notes as well.  You can do audio recordings as you take notes also with Notarize.  This is truly a great application for taking notes.  Not only can you write with your finger or stylus but you can type your notes if you wish.  Drag and drop text or notes wherever you want them.  This app has many things to offer so I would get it while its free.
Master your iPhone in one minute a day:
Sign up to iPhone Life's Tip of the Day Newsletter and we'll send you a tip each day to save time and get the most out of your iPhone or iPad.
  Lastly, is an app that I have just started using called neu.Notes.  This application has many of the same features as the previous two I have mentioned.  One of my favorite things about this application is the palm pad.  It has a layer type box you can drag over the screen as you take notes, to keep your palm from marking on the screen as you write.  It has different backgrounds or paper you can change.  This gives you the lines needed to write straight on the screen.  I think it's worth downloading so get it while you can at the great price of free. 
There are many other applications that are great for taking notes but these are some I thought you would enjoy.  Thanks for taking the time to read my article.  Please leave a comment below about your favorite app.
Thanks,
Mitch Stevens