By admin on Wed, 09/14/2011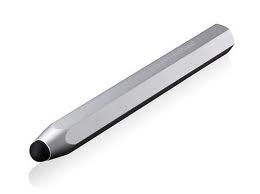 The most important accessory for any iOS user is a stylus.  It reduces the amount a smear or scratches on the screen.  Its much easier to point or select item on the screen with a stylus rather than your finger.  The stylus allows for better control and reduces the muck on the screen.  There are dozens of different types of stylus.  When we go to purchase our first stylus we need to be educated on the topic.  If not it can be overwhelming to purchase a stylus.  I am going to discuss a few of my favorites and the types I prefer.
  My favorite stylus of all different types is the Kensington Virtuoso Touch Screen stylus.  This stylus is a combination of a pen and stylus.  It has a ball point pen one end and the stylus on the other.  This stylus is great for taking notes or just surfing the net.  If you are an artist looking for a fine point for precision this is not the best choice.  It has a spherical shaped soft rubber material type end for the stylus end.  I have been using this stylus for several weeks and find myself returning back to use it each time I switch to a different one.  You can purchase this stylus at www.kensington.com.
  The second type of stylus I prefer to use is the Just Mobile Alupen.  This is a very fat or chunky type stylus.  It's easy to hold and write notes on the screen.  This is a great stylus for artist or anyone who like sot use applications that simulate painting.  If you are going to paint an object this stylus is a great selection.  It is very easy to hold and maneuver in the hand.  This stylus is a great addition to anyone persons stylus arsenal.  This stylus is a bit chunky for precision but better than a finger.  It's made from aluminum with a soft rubber tip.   Check them out I think you'll like it.
Master your iPhone in one minute a day:
Sign up to iPhone Life's Tip of the Day Newsletter and we'll send you a tip each day to save time and get the most out of your iPhone or iPad.
  The most popular stylus is probably the Wacom Bamboo stylus. The Bamboo stylus was created for the specific use with the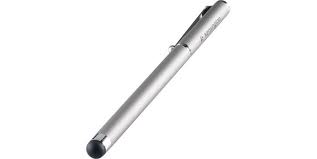 Apple Ipad.  Its a great stylus for most any purpose.  Its very well balanced and easy to use.  Whether you are drawing, writing, or making a precise selection it does a great job for all.  The best thing about the Wacom Bamboo stylus is adding Bamboo Paper to write and draw or create virtual notebooks on the ipad.  This is a combination I have been using since it was released.  I recommend this for any ipad user.  The Bamboo Paper is a free download in the app store at this time.
  Using a stylus on the iphone is a bit different than on the ipad.   The screen is much smaller so we need a different type o stylus for the iphone.  The stylus I prefer to use with the iPhone is the Pogo Sketch stylus.  This is a great stylus to use with the ipod as well.  This stylus is much smaller and created for the iphone user.  The size of the stylus allows more precision on the screen.  If we were to use the Alupen or Bamboo it would make the selection incorrect by selecting things close to what we were trying to select on the screen.  By being so small we can attach the pogo Sketch directly to the iphone or ipod.  Some cases provide a place for the Pogo to attach.  I really like the idea of having the Pogo attached to the iphone or ipod that way we don't have to find it each time we need to use it.  Check this stylus out at www.styluscentral.com.  They offer a great selection of many different Stylus for the ipad, iphone, or ipod.

  Most people will prefer more than just one stylus.  If you are an artist or like to design on the ipad you may have a dozen stylus.  This article was a brief summary of only a few favorites I have.  This isn't anything other than my opinion.  We all know what thats worth.  I have always heard that opinions were like butts. Everybody has one. LOL  I have included a video review of the stylus I have discussed in the reading.  Please watch below.  If you enjoyed the reading or have a question feel free to leave a comment.  Don't forget to register for the iPad Case drawing on my site below.
Thanks,
Mitch Stevens