By admin updated on 07/12/2011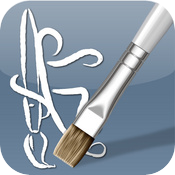 ArtRage by Ambient Designs has out done themselves this time.  I have used several art and drawing applications for both the iPhone and iPad over time.  I would have to say that ArtRage is by far the leader of them all. It doesn't matter if you want to scribble like a kid or paint like a professional artist. Art rage has features for about anything you could ever dream. It has about every art tool you can imagine for the Mac desktop or iPad user.   Using this application has made me want to improve my own artistic ability and creative designs.  I can personally say I have never been a person that sat down to paint or draw. Although, I am somewhat of a scribbler but I would not call myself an artist. This application just brings out the artist in whoever uses it.
Using ArtRage and the way it's designed brings out the artistic ability inside anyone. The tools and brushes are just so lifelike.  The brushes feel and perform  just like you had a real brush in your hand. The rollers, felt tip pen,crayons, and the list goes on are at your fingertips.  Changing paint color is just like having your paint sitting right beside as you paint or draw.  I would have to say that this is my favorite art or drawing application that I have used so far. It cost $6.99 in the App Store but that's a small price to pay with all the features and settings that come with the application. I don't think you'll be disappointed after you have spent just a few minutes with the application. There are many different brush settings you can change inside the app tool bar. It does come with some preset canvas settings too. The application also holds all your paintings or drawings in a gallery. They are saved on your iPad as you make them. As you set up your canvas you have some pre-settings you can use you can change the type of canvas you are painting on.  Some of the types of canvases is rough paper, crumpled paper, lumpy paper, swirly, payload, tenfold and the List goes on with the presettings. Beyond the canvas settings you have all the features much like the desktop Mac version of the application. Which I might say if you're a Mac user the the Mac version of this application is wonderful as well. The iPad version is slightly different with only some differences same in the tool bar.  But overall its about the same as the dektop version.  If you have used the application on the Mac you will feel right at home.  But if you have never used ArtRage, in just a short while you will be painting like a professional artist.  Thanks for reading my review.  I hope after reading the review you decide you want to become more creative in your own way using the app.  Itunes link 
Master your iPhone in one minute a day:
Sign up to iPhone Life's Tip of the Day Newsletter and we'll send you a tip each day to save time and get the most out of your iPhone or iPad.
Mitch Stevens
Manchester, KY.