By admin updated on 08/11/2011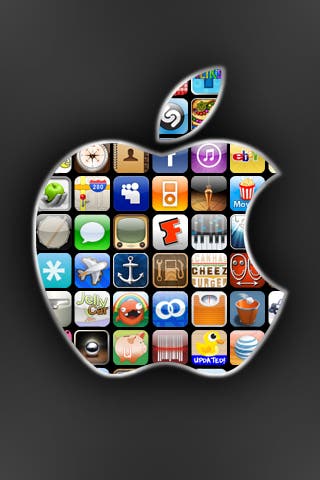 You have finally convinced Mom or your "better half" to purchase an iPhone or iPad. Now, with over 300,000 applications in the app store and growing daily, where do I start. What should I download onto my idevice and what should I purchase to put on my idevice. This is probably what we all thought after we got our device. Here is a list of applications and games that I think Apple should send on the idevices from the factory. It's not like they're giving them away from the start. Now they expect us to pay from $1 to $15 for each individual application we put on our device. Well this list isn't perfect but it is a starting place without breaking the bank or yourself. Hope it helps. Let me know your favorite application and maybe I can add it to my list for others to see on here.
Apps Apple Should put on every device from the Factory
1. Find My iPhone - This is hands-down the first app that should go on every iPhone, and it's frankly surprising Apple doesn't include it out of the box. This free app won't help you find your own iPhone, but if you live in a house with multiple iPhones and iPads, it will allow you to find someone else's. This makes finding your iphone simple whether you dropped it under the couch or left it in a restaurant while out to dinner. You can display messages for the person who finds the iphone, you can lock it, or wipe it clean all done remotely over the internet. So this is an invaluable application. We spend hundreds of dollars to get an iphone the least we can do is spend a couple more bucks to protect our investment.
2. Camera+ - For US $1.99, this app does everything the built-in Camera app ought to do. Camera+ takes photography on the iPhone to levels that seem impossible on a cell phone camera. With built-in exposure controls and grid lines, you have much more control over composing your photos. Once you've taken your photos, Camera+ gives you access to a tremendously powerful suite of editing tools that can make simple snapshots look like works of art by the time you're finished.
Camera+ has built-in sharing tools, but if you want a more social experience for photo sharing, there's nothing better out there right now than Instagram, which lets you share photos simultaneously across not only its own service, but almost every major social network out there. Instagram also has some basic photo filters you can use to make so-so pics stand out a bit more, but the real draw is seeing and commenting on other people's pics. It's very much like what Facebook does with pictures, but simultaneously more powerful and more fun.
3. Dropbox - Dropbox gives your iPhone the file storage solution that Apple doesn't think we need. This can be installed on your pc's and laptops and synchronizes even when your not online. This turns your iphone into the next best thing to a flash jump drive. Dropbox is the next best thing. It offers online-based storage of files, with 2 GB of storage space for free. Even better, you can install Dropbox on a Mac or PC, too, which means sharing documents and files between your Mac and your iPhone is as simple as dragging the file into your Dropbox folder. You can also increase your storage space up to 8 gigs for referring eight friends. This is a great way to get more storage free but it can also be purchased up to 100 gigs. WOW!!!!!!
4. A messaging app – If you are trying to get by without spending money, and who doesn't need to do that these days. Google Talk is a great app. You can even use it to send messages as well as text on your pc. Why give your wireless carrier more money than you already do? Skype does video chat similarly to Apple's own FaceTime, but unlike FaceTime, it works over 3G (most of the time). Skype is a fair application for this purpose. I really don't use this so I'm not that familiar with it. I am a Google fan on all aspects of the game.
5. Twitter- but let me be frank here. If you are going to use twitter, Tweetbot is by far the best twitter client available. It is just so user friendly. However, it does cost $1.99 compared to the free version but believe me you will be glad you spent the two bucks. It is the most feature rich of the twitter clients available. I love tweetbot.
6. 1Password - Typing in passwords on the iPhone's keyboard is usually more of a pain than it's worth, and it's a good way to feel safe while you're doing mobile banking. 1Password allows you to store passwords for websites, bank accounts, Wi-Fi networks, whatever you may need. It's also got a great "wallet" feature that lets you input things you'd normally carry around in your wallet, like discount cards, library cards, or even your driver's license -- just don't expect the cops to accept your iPhone as legal ID if they pull you over. You can even jot down notes that you want to keep secured from prying eyes. If you want something on your iPhone, but you want to be the only one to have access to it, 1Password is what you need.
7. Instapaper - If you like to read articles online, and if you ever foresee reading them on an iPhone, you want Instapaper ($4.99). With just a bit of initial setup, you can configure a link in Mobile Safari to send articles to your free Instapaper account so you can read them later. Instapaper is an invaluable tool for creating a cache of reading material on your device. See a lengthy article that you don't have time for now? Send it to Instapaper and read it when you've got the time. Does part of your daily commute involve going through areas with no wireless coverage? Store articles in Instapaper before you leave, then read them later on the train. Instapaper's one of those iPhone apps that may not seem strictly necessary at first, but once you start using it, you'll never want to be without it again.
8. Evernote - With a simple interface that lets you make notes with text, photos, or audio, this is your brain on iPhone. This free app can also sync notes with its Mac-based counterpart, so you can type up a grocery list in Evernote on your Mac, sync it to Evernote's online servers, and have that information waiting on your iPhone when you hit the store. With Evernote on your iPhone, you never need to worry about forgetting anything again -- at least as long as you remember to look it up in Evernote, that is.
9. An ebook reader app - The thought of reading entire novels on the iPhone's tiny screen might seem ridiculous at first, at least until you try out either Amazon's Kindle app or Apple's own iBooks. If you've already got a Kindle, you can sync over any Kindle books you've purchased to your iPhone, and you can even sync your reading progress between the devices.
The only drawback to the Kindle app is that you have to back out into Safari if you want to buy more books. Apple's iBooks isn't saddled with that restriction, offering you access to a wide variety of titles in the iBookstore (though not nearly as wide a variety as what Amazon offers). Both apps are very competent ereaders, and while you won't get that book smell while you're reading, the ability to carry an entire library of books around in your pants pocket is pretty phenomenal.
10. I couldn't decide on just one game so I am including my top ten iphone games here.