By Tari Akpodiete on Wed, 02/03/2010
I recently had the chance to chat with Zvika Ashkenazi, the CEO of MobileAppLoader.com and I was able to learn some very interesting things about his company, the services it provides and I also learned how to track App Store sales.

Zvika sent me a graphic detailing January 2010 metrics for DIY iPhone apps. According to the graphic, MobileAppLoader was responsible for creating 436 apps for their customers which include realtors, auto dealers, restaurants, and hotels to name just a few categories.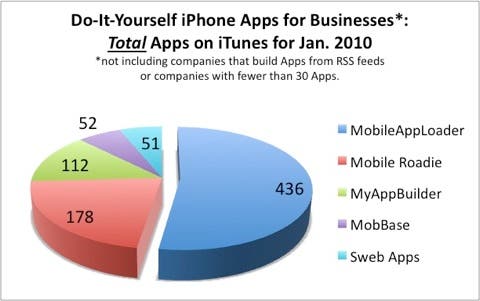 As you know from my previous posts here, a number of companies have launched in the last year or so to help people and businesses create their own applications, not just for iPhones, but also for other platforms like Android and Windows Mobile. Previously, this sort of service was unheard of. If one wanted software developed, it could get pretty pricey. For large corporations, this was considered 'the cost of business', but for individuals and smaller companies, personalized or customized software was often out of reach.
Master your iPhone in one minute a day:
Sign up to iPhone Life's Tip of the Day Newsletter and we'll send you a tip each day to save time and get the most out of your iPhone or iPad.
Now, some people themselves are talented programmers themselves and can make their own apps. Some companies have developers on staff, while some companies can afford to hire an outside developer for a specific project  - at a cost of $5,000 to $25,000 - to develop an application from scratch, that kind of budget is out of the reach for many people. Of course, one can get it for less, but even so, a ball-park bargain-basement sort of figure is still around $2,500. And most aren't looking to create super-sophisticated software, and don't really need to consider spending that sort of money anyway.

At the present time, MobileAppLoader claims that they are the #1 Do-It-Yourself iPhone App company. These stats do not include companies which build apps from RSS feeds or companies with less than 30 apps. Zvika explained that he generated this information by typing the name of the developer into iTunes. Now that I know how to do this, I anticipate hours of fun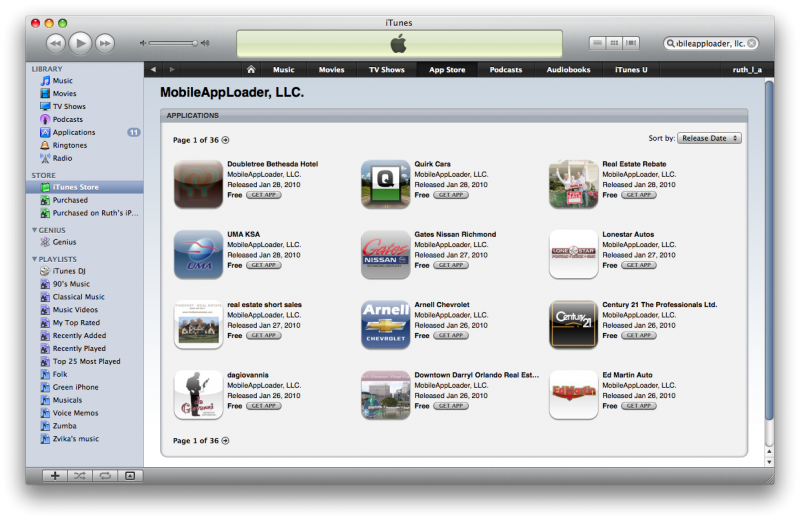 Since MobileAppLoader doesn't build their apps via RSS feeds, I was curious as to their process. It's done by what Zvika described as a unique "App in a Snap" Wizard. A user signs up for an account on their site, and selects their business category. Then they chose a design from Iron, Bronze, Silver and Gold offerings and upload four images and type in certain details (contact info, URLs, feeds, text, etc...) and finally hits 'submit'. Behind the scenes, the content is then converted to a native iPhone app using objective-C using the Apple X-code development tool, and that process is then followed by a a quick quality assurance to make sure everything is working properly before the app is sent to Apple for review.

Apps built from RSS feeds can be very handy, but MobileAppLoader is very proud of the real-time interactivity of the apps they build using this method. For example, they've built a number of apps for towing companies and the apps include the ability to tell the towing company where you've broken down, show them a picture of your car and ask them to come and get you. So the app makes use of notifications, GPS and the camera. And that's just one example. Auto dealer apps include the ability of the dealer to notify a customer of their next service appointment. Prices start at $59.99 for setup and $4.99 a month.