By Tari Akpodiete on Fri, 01/08/2010
High-end iPhone and Android application developer
PointAbout
's client list includes companies like The Washington Post, Cars.com, Kaplan, Kohls, Qorvis, Burger King and The National Guard and a large number of other deep pocket companies and organizations. In partnership with Qorvis Communications and Patton Boggs, LLP, along with support by Zagat Surveys, LLC, PointAbout even created an application for the
2009 Barak Obama Washington DC Inauguration
.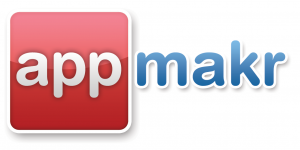 Typical budgets for applications PointAbout makes start at U$25,000 and go up from there. Not everyone can or wants to foot that sort of bill - or even 10 to 20% of that with less expensive developers - and that's where PointAbout's newly-launched
AppMaker
comes in. The idea behind the service is to build and deploy native mobile applications across multiple phone platforms in minutes instead of months.
According to PointAbout, anyone with U$199 can use AppMakr to create "low-cost, wicked-fast native mobile mashup apps out of multiple types of XML feeds (RSS, Twitter, YouTube, Flickr, etc) or ... APIs". There's even a revenue generating option via advertising. For that U$199, PointAbout publishes the freshly-created application directly to the AppStore. One doesn't have to worry about learing
Xcode
(
wikipedia
) or things like getting a developer's license from Apple. AppMakr's logo will appear discretely on the splash screen. However, if one wants to publish the application oneself, in essence have 100% brand control, then the fee jumps to U$499. As
Mobile Crunch
notes that "It is an extremely simple product and doesn't help anyone create complex non-RSS-enabled apps, but it seems that PointAbout has democratized app development in a way that hasn't been done before."
The way it works is that you register an account on
AppMakr.com
to get started. The next step is to chose a title. Right way, you'll get a list of suggested RSS feeds associated with the property for which you're creating the app. For example, the one from your blog, the one from twitter, the one from YouTube, etc. You'll need some custom graphics. You'll need your graphics which the program can find online via Google image search or you can load them from your drive. Dimensions for graphics: splash screen - 320x480, pixel header - 320x46, pixel icon for iTunes - 512x512.
To be clear, this is a native application, not a web application. A native application is a piece of software which resides on a device while a web application requires a visit to an internet site for it to work. There's a very detailed article on the company blog entitled
Web apps vs. Native apps
which explains these concepts, including pros and cons. PointAbout was founded about 18 months ago with the idea to "marry the web with native shells", an approach they called "springboards". You can read their
white paper
detailing this strategy which they executed successfully for a number of high-profile lclients.
Here's a video of a presentation that PointAbout CEO and co-Founder Scott Suhy did a few months ago at an Apple Store.
As with any development, be it an application or a web site, testing is critical, and with AppMakr you can test as you go. The creation screen will includes an iPhone simulation and you can literally watch your app as you build it. You can also download the app to your iPhone and test it there too. One thing to note is that the placement of such things as buttons is standard on the interface as it is a template., but the better your graphics, the better and more individual your app will look.
AppMakr user,
Guy Kawasaki
could - if he wanted to - create a custom iPhone app for each of his 800 Alltop topics. Other people, companies and organizations who have utilized the service include
AtlanticWire
and the United States'
ARMY News
. Here's a video of COO and co-Founder Daniel R. Odio demonstrating the MacLife iPhone app:
Odio has also indicated what sort of things people can expect in the future from AppMakr:
- An augmented reality template (make AR apps quickly)
- Android and other phone functionality for multiple-platform builds
- Interactive apps, including instant notifications, the ability to take pictures and add comments, and other user generated content
- e-book readers
- And much, much more
Feature requests may be made
here
, and questions may be asked
here
, but if you need product support, visit this
link
where you can open a ticket and/or browse the documentation. You can follow AppMakr on
Twitter
.
Here are screenshots of the seven steps to make your own app using this service:
The AppMakr Dashboard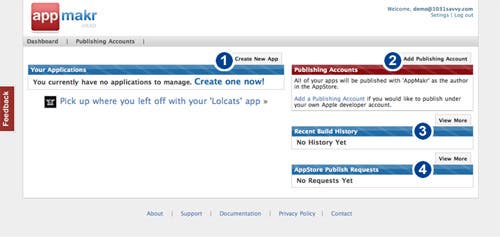 Publish Under Your Brand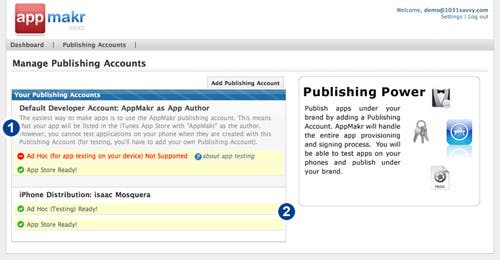 Add & Edit Your App's Artwork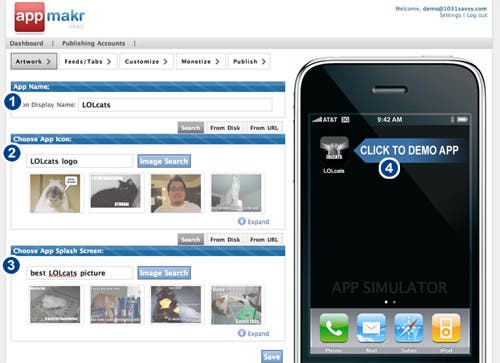 Add Content To Your App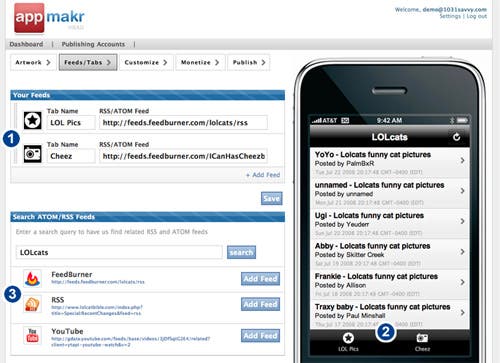 Customize Your App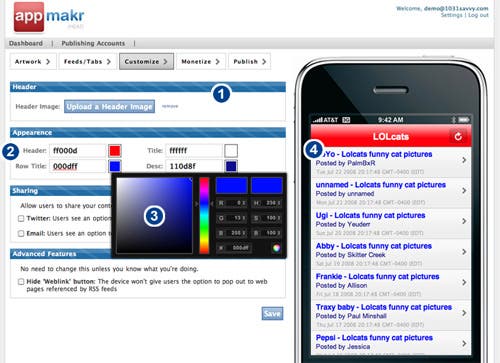 Monetize Your App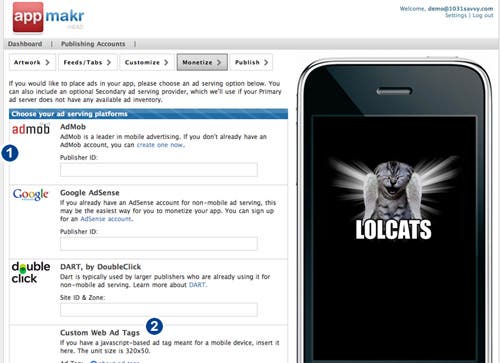 Test and Publish Your App