By

Mike Riley
Wed, 03/05/2014
Big iPhone and iPad aftermarket items like cases and speakers garner considerable attention, but sometimes the small innovations can have a big impact. This entry takes a look at ChargerLeash and Might Mic S, two recently released accessories for the iOS platform that are worthy of closer examination.
ChargerLeash
The first of these is by a new entrant in the iOS accessories market. The ChargerLeash has been designed for people who frequently travel, and just as frequently accidentally leave their iPhone or iPad charging cable behind in hotel and meeting rooms. The ChargerLeash looks and works like a traditional iPhone or iPad sync and charging cable, with one small addition. It has a small rectangular compartment that houses a speaker and LED. When the cable is unplugged from the iOS device it is charging, an audible alarm will sound, beeping in time with an embedded warning indicator light.
Besides serving as a reminder to pack up your charging cable, ChargerLeash can also minimize phantom power draw, since you will be reminded to remove your power block from the wall along with the charging cable. Even when not in use the power block still sips away some electricity, often referred to as phantom power. The ChargerLeash helps you to be more eco-friendly by its audiovisual alert to unplug and pack up.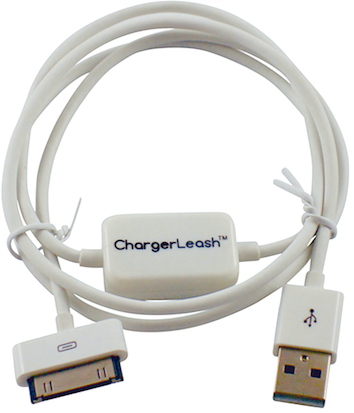 I tested the standard Apple 30-pin version ($26.99) on my older iPhone and iPad and the accessory worked as advertised. The company is also working on a
ChargerLeash
helper program that will be available for free in the App Store. The program will use
geolocation
to determine if you're charging at home and give you the option to disable the alarm. Hopefully this app will be available soon, since the alarm can get annoying after awhile for normal home-based device charging.
ChargerLeash is also sold in Apple's Lightning sync cable configuration ($34.99), as well as a Micro USB and a multi-tip version for other mobile devices. Considering that the price of the cable is only a few dollars more than Apple's replacement sync cables, losing just one of Apple's cables would more than pay for the ChargerLeash's expense. If you're a frequent traveler and have ever left a charger cable behind, ChargerLeash will prevent that worrisome situation from ever happening again.
Rating: 4 out of 5 stars
Mighty Mic S
Anyone who has captured video with the iPhone or iPad's built-in microphone knows that the sound quality is wanting. Wind blowing over the embedded mic and extemporaneous noises like a hand clasping the phone or conversations to the left and right are picked up like dust on a magnifying glass.
AmpRidge has come to the rescue with Mighty Mic S ($69.99), an small shotgun-style external microphone that plugs into the iPhone or iPad's speaker jack. With its larger, high-quality condenser, the Mighty Mic S is far better for audio capture than the built-in Apple mic could ever hope to be. The package also includes a small carrying case to protect the mic as well as a foam windscreen cover to help eliminate wind and pops of air that can spoil a open air recording session.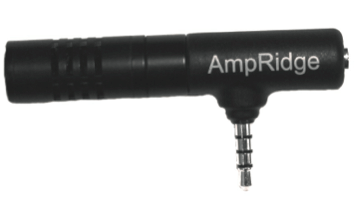 Volume input during a video shoot can be adjusted via software using MoviePro, a video-recording program available from developer Mirage Labs for $2.99 in the App Store. As for strictly audio recording, a variety of musician-related apps that accept external mic audio input work, such as a number of IK Multimedia programs.
Overall, the quality of audio captured using the Mighty Mic S was considerably better compared to sound picked up by the built-in microphone on the iPhone or iPad. But at an MSRP of nearly a hundred dollars, anyone concerned about high-quality audio would probably be willing to spend a little more for a dedicated handheld or boom mic with a larger condenser and greater range. 
Still, the appeal of being able to pack such a small, capable external mic in your pocket or gadget bag is attractive. This is especially true since the Might Mic S doesn't require any additional power to operate. And the pass-through headphone jack on the back of the mic combined a monitoring app like MoviePro can make this a useful portable "in a pinch" mic replacement.
Rating: 3 out of 5 stars