By

Mike Riley
Sun, 09/19/2010
Readers of my reviews may recall my enthusiastic review of Electronic Toolbox HD.  While that product provided a good deal of depth on basic electronic parts and calculations, it lacked a simulator to assemble such parts into a functional design.  iCircuit fulfills this need exceptionally well.

Designed as a universal application that works well on the iPad and iPhone/iPod Touch by developer Frank Krueger, iCircuit is exactly what I had in mind when I mentioned the deficiency in my Electronic Toolbox HD review.  Indeed, Mr. Krueger credits the work of Paul Flastad as inspiration for the product.  If it hadn't been for the fact that the iPad doesn't run Java, Mr. Flastad's Circuit Simulator Applet might have negated the need for iCircuit.  Still, the fact that Mr. Krueger optimized Mr. Flastad's work for the iPad experience and took it several steps beyond is a very welcome choice.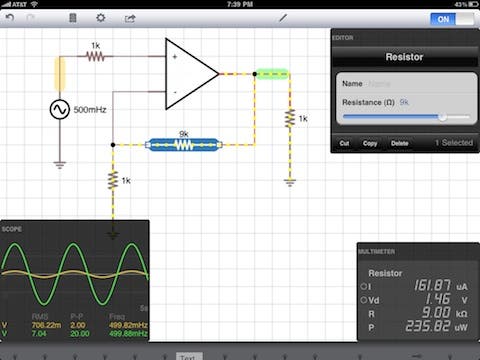 iCircuit includes over 30 virtual electronic elements to build your virtual circuits.  These range from signal generators, capacitors and resistors to manual SPST/SPDT switches and relays, diodes, MOSFETs, ADCs and DACs, and even simulated buzzers, speakers and LEDs.  

The application works best on the iPad, but is frankly a bit too cramped on the iPhone to display much more beyond simple designs.  This is expected due to the screen real-estate constraints that the smaller iPhone screen surface area has to offer.  But on the iPad, iCircuit really shines.  In fact, users can connect the iPad running iCircuit to an external VGA display to demonstrate the design to a larger audience.  Smart!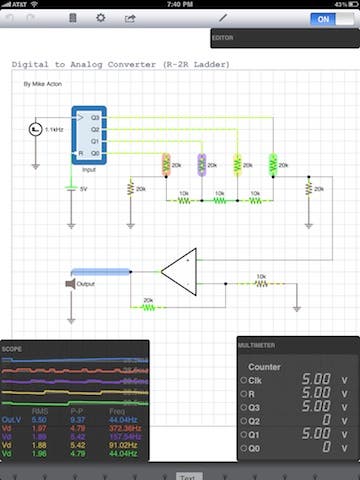 Students and hobbyists can load up the 11 circuit examples, ranging from a simple amplifier to a complex transistor.  Each element can be selected and analyzed via a virtual multimeter and oscillator overlay, further promoting learning and experimentation.  Professionals will appreciate these tools as well when prototyping basic circuit designs.  Once a virtual circuit is created and tested, iCircuit can email the image as a PNG graphic or PDF document.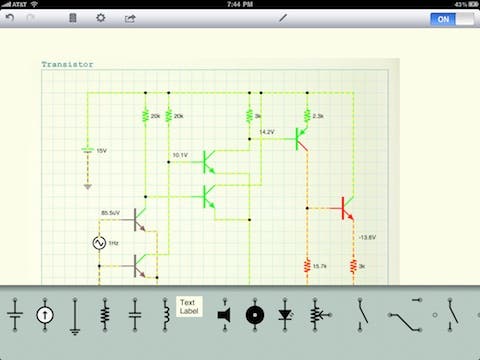 I have two very minor criticisms, both UI-related.  The first occurs when trying to reposition elements and wire traces.  iCircuit has a tendency of fighting the movement by aggressively snapping endpoints into place via the virtual grid it uses to keep diagrams clean.  If the developer could add an option to the settings to allow free movement of the wiring elements first, and then snap to the closest grid point, that would go a long way toward relieving the minor annoyances caused by fighting the current placement system.  Hopefully this slight annoyance can be resolved with an update that adds a "Snap to Grid" setting that can be turned on or off depending on the user's preference.

The second criticism occurs as diagrams get complex, the program seems to get less responsive.  Obviously there are a lot of things going on that are making demands on the iPad's processor, especially when capturing multimeter measurements and viewing the scope overlays.  Still, if program optimizations can be made by making the overlays move more fluidly over the design surface as well as give the user more responsiveness over the selection of an electronic element on the diagram to be monitored, such improvements would go a long way toward satisfying demanding customers like me.

Overall, iCircuit is a highly educational and terrifically useful electronics lab simulator for students, electronics enthusiasts and professionals alike.  If you are an iPad owner interested in learning about electronics and experimenting on circuits without the expense of the parts and tools, iCircuit is an application that will immeasurably help you satiated this goal.

Product: iCircuit
Developer: Krueger Systems
Price: $9.99 US
Rating: 4/5 stars