By Peter Magers on Tue, 07/29/2014
Just when you think that social network town-building sims have run out of new ideas, someone comes along to prove you wrong. Master of Craft (free) is a new SNRPG (social network RPG) from IdeaBoxGames, and it's turning convention on its head in the cutest possible ways.  This fantasy town building sim lets players dabble in the world of role playing by incorporating dungeon quests. And yes, you actually get to see and participate in combat; it's not purely text based! But the meat of the game is building a perfect, quaint, fantasy town on the monster-threatened frontier, which the player accomplishes by starting a weapon-smithing monopoly to generate gold. Of course, responsibilities and opportunities to expand continually arise from there.
Master your iPhone in one minute a day:
Sign up to iPhone Life's Tip of the Day Newsletter and we'll send you a tip each day to save time and get the most out of your iPhone or iPad.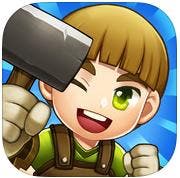 The interface is inline with other touch screen town sims, so veterans of this genre will have no trouble catching on. For those who haven't cut their teeth on social network/simulated city games, there's a great tutorial that explains every nuance in a pleasantly concise and straightforward manner. The player will be hard at work creating swords and shields and running the production mills in no time. Basic materials are merely a matter of turning one resource into another in the mills, but epic materials will be needed as the player's skill in crafting weapons advances. These special materials can be obtained from dungeon quests. The combat required is almost entirely automated, but players will need to hit spell cool downs at the appropriate time, which offers a nice balance for those who aren't into action RPGs and those who don't want to feel entirely divorced from the action.
The game's best feature is its surprisingly fast and pace. The addition of action-based dungeon quests is enormously gratifying and helps to break up the typical time-gated grind of a social sim. While it's possible to buy your way through the game more quickly using in-app purchases, it's hardly a necessity because there's so much to juggle at once.  So far I haven't run out of potential player actions and I haven't bought a single gem. Hopefully this means that Master of Craft will keep the in-app store options to items that are purely for convenience or vanity. It's gratifying to watch the little village grow into a bustling town.
The quaint character design extends beyond the cute townspeople—even the baddies in the dungeons are adorable. For players who enjoy using sims to escape into a sweet, fun, friendly world, Master of Craft delivers beautifully while still bringing some excitement and action into the mix. There are plenty of sound effects, animations, and playful background tunes to make the world immersive without overdoing it. Anyone that's dying to be addicted to yet another social networking game must check out Master of Craft; it's quite possibly the best in the genre right now.