By

Peter Magers
Thu, 09/08/2011
ActOn has entered the castle-defense genre boldly with "Naked King."  Of course, anyone who can maintain their royal bearing while stripped to their undies is bound to be bold, right? 
When the game starts, he's more of a naked former king than a naked king.  See, evil monsters have invaded the land, taken over, and taken the clothes right off his back.  Talk about rebuilding a nation from the ground up.  The poor fellah doesn't even have bootstraps to pull himself up by.  What he does have, however, are the remnants of his nation.  Their job is to get the farms producing so that the player can put together some firepower to make war on the wardrobe thieving enemies.  Beyond the back story, "Naked King" is castle-defense in all its traditional glory.  One castle on this side, one on the other, and whoever can protect their own fortress while making a ruin of their rivals' wins. 
To win, there's the actual combat, but what's more important is the strategy that comes before it.  Naked King gets the controls right, by laying things out clearly and simply to make upgrades and improvements a simple process as the player moves ahead through the levels.  Of course, it's up to the player to perfect the right strategies for success.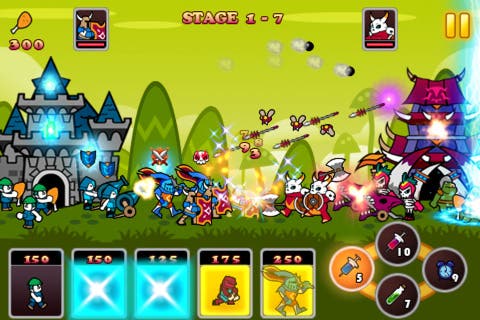 Game design in terms of strategy is what makes or breaks a castle defense game, and ActOn makes it with Naked King.  Of course, having three different play modes and three levels of difficulty help each player find their own sweet-spot.  The game offers enough variety to make different strategies viable allowing for different styles of play, but it's not so flexible that there isn't a challenge.  The mechanics of the game are great.  What's a little bit lacking are the superficial aesthetics. 
The graphics of Naked King could definitely use some work.  They're not particularly detailed, but that's not really the issue.  What irks is that the game seems at first glance to have lots of visual appeal, but the execution of that throughout the game is little shoddy.  Well, maybe shoddy is too harsh.  It seems more unfinished than anything. 
For its free price point, though, Naked King has a whole lot to offer.  Being free it has a fresh appeal that the genre's been lacking for a while, and it's hard to put down. 
Link: http://itunes.apple.com/us/app/naked-king/id444428084?mt=8