By Hal Goldstein on Fri, 05/17/2013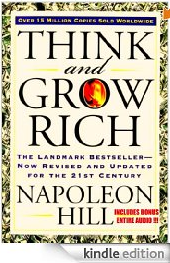 About 40 years ago, I read Napoleon Hill's timeless classic, Think and Grow Rich (Kindle version $ 0.99). Hill interviewed hundreds of turn of the century magnates such as Andrew Carnegie and Thomas Edison to discover what makes people successful. Hill's books, as well as other "success literature," had significant influence in my subsequent success as an entrepreneur and magazine publisher. Having a clear intention, committing to it, and persisting are fundamental themes in most success literature. 
In my recent May/June 2013 iPhone Life magazine iView column, I wrote about a lecture on Steve Jobs and a course I taught on consciousness and entrepreneurship at Maharishi University of Management. After reading the column, Oscar Andermo reached out to me. 
Master your iPhone in one minute a day:
Sign up to iPhone Life's Tip of the Day Newsletter and we'll send you a tip each day to save time and get the most out of your iPhone or iPad.
He told me about his $4.99 eBook, How to apply success principles daily with the help of your smartphone coach! (Oscar is making the eBook available free starting today, May 17 through May 20.)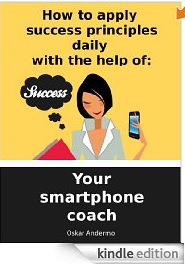 I found Oscar's eBook 
practical, 
to the point, and insightful. Although it's jammed with ideas, it is a quick read. In the eBook, Oscar writes the following formula: "Get inspired + find the right strategy + use your smartphone + take action = success!"  His eBook focuses on the "use your smartphone" portion. 
Oscar begins his book with a summary of the eight ideas he finds in common throughout success literature. For example, his first idea is, "You become what you think about most of the time!"  If you only want an introduction to success literature, this chapter alone is worth reading. If you are familiar with success literature, then the chapter is a short, bottom-line summary you can use with whatever success strategy you are committed to.
The rest of the eBook gives many creative examples of how to apply those eight ideas using your smartphone. He does so with 32 unique "action steps."  Action step examples include creating an opening screen with a pictorial summary of your goal, making random reminders each month with affirmations and things you want to focus on, creating an iPhone album with items you are grateful for. Two other of my favorite ideas are to create a playlist of music that brings you special joy, and to laugh. (Oscar created a fun website you can enjoy on your iPhone called "Listen to Laughter." )

Oscar also has his own website supporting the book that's worth a visit. And for the next four days, you can download the eBook, normally $4.99, for free.