By Alex Cequea on Tue, 02/14/2012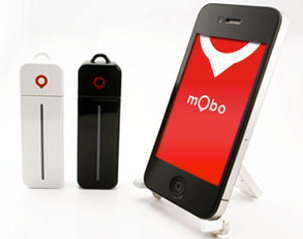 I got a chance to check out the Mobo Stand by Fancygearbox.com ($24.99). The stand comes in two colors, black and white, and it arrives neatly packaged into a keychain-sized housing that is easy to carry around. When you take it out, it transforms into a mini-tripod for your iPhone. It is perfect for using alongside a Bluetooth keyboard, watching video, or making Skype or FaceTime video calls.
What I liked:
I really liked the Mobo's compact design, especially when it's tucked away as a keychain. The steel material adds a feeling of sturdiness and durability. In keeping with Apple's design tradition, both black and white models just look "cool."
It was also fun to play with the width of the base. You can adjust it to maintain better balance depending on the surface.
What could be better:
I tried putting my iPad on the Mobo, and it's definitely a not designed for it. It's too little and cannot hold it. Also, the current case I have on my iPhone tended to slip on the Mobo stand. It only worked well when I placed the iPhone on the stand by itself, without a case, or if I shortened the width of the base. I would like to see rubber tips and rubber legs to strengthen the overall stability.
All in all, this is a neat little iPhone companion.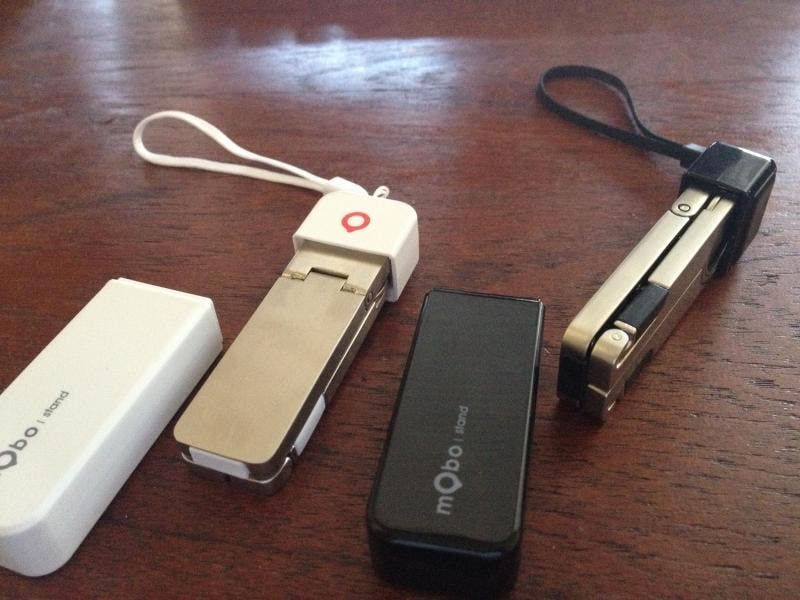 Where to get it:
You can purchase the Mobo stand at fancygearbox.com. The regular price is $34.99, but it is currently on sale for $24.99 including free shipping.