By Alex Cequea on Fri, 04/01/2011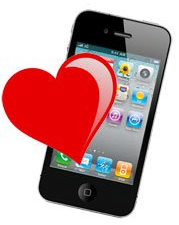 Well this is interesting. MarryYouriPhone.com is introducing a new public service that allows people to enter into marriage with their iPhone, iPad, or iPod touch. A rep for the site, David Seagull, said "People love their iPhone so much, it's only natural to want to marry it." Visitors of the site will be able to purchase an official-looking marriage certificate that will bind them in holy union with their beloved device.
One happy newlywed, Mary Fernandez, said "The iPhone outperforms almost every man I've ever dated!" Others are reporting high levels of satisfaction as well.
Could this become a trend? Marry Your iPhone hopes it is. They are urging people to support device-partnerships in all 50 states.
hmm...