By Alex Cequea on Tue, 04/19/2011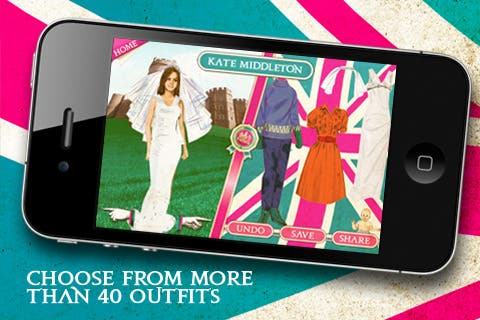 Dress the Royals ($.99), is an app that lets you customize the wardrobe of the Royal Family to get them ready for the Royal Wedding. It's a nice little game for kids, as the wardrobe selections for each member of the family ranges from serious to very wacky. I found the interphase to be abit confusing at times, and I imagine If I can't figure it out, neither will kids. Nevertheless, it's an app that's not meant to be taken very seriously.
After your dress all the members (and save their warddrobes), you can change their location, change their background soundtrack (only two choices: Punk and Classical), choose their decorations (3 choices: Bunting, Banner, and Confetti), and tap "Play" to see them celebrate. The app gives you the option of sharing your creation on Facebook or via email.
I can see children spending a lot of time trying all the different combinations, and I imagine the app has the potential to be much more popular in England than the US. The Royal Wedding is on April 29th, so get to it!
...and check out my Royal Family below: