By Jek Suen Lee on Wed, 12/29/2010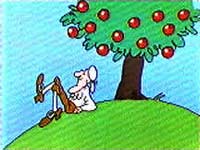 Lots of recent articles, blogs and episodes of investigative journalism have delved into the "will-it, won't-it" subject of  the ipad 2 launch, rumoured to be in March or April 2011. However, I prefer to rely on the tried and tested methods of gut instinct and rumour mongering; I will also be supplementing these tools with impressive tables and graphs (if available and relevant).
Clearly, ipad 2 or 2G ipad could have:
Master your iPhone in one minute a day:
Sign up to iPhone Life's Tip of the Day Newsletter and we'll send you a tip each day to save time and get the most out of your iPhone or iPad.


A Front facing camera ("hello iphone, meet ipad")


Maybe a Rear facing camera (but who would use the Ipad for photo-taking?)


At least 1 USB port (thus allowing USB printing and a flood of new accessories)


Extended battery life (..duh!)


Extended storage (2x duh!)


Thinner hardware (many sanitary and hygienic padding solutions have gone the same way in development...)


Support for new standards such as 4G services (or whatever they call the next 802.11 iteration...a/b/g/n/x/y/z...)


Perhaps Retina display (though some industry observers cite the high cost of having a 10' Retina screen...but that's like telling the Wright brothers that the plane is more expensive than a horse...)
However, Apple has often surprised many fans and observers by choosing to take the road less travelled (such as dropping Flash support) and unlike Android and Windows hardware manufacturers, their business model doesn't involve packing all sorts of hardware support into their products. They have resisted the temptation of packing all possible features into their phones, tablets and laptops, and eschewed Flash support, external storage solutions (like SD cards) before, and  there is therefore little reason to believe that they would not do the same for a 2G ipad. It will therefore come as no surprise if they decided not to have a rear-facing camera, usb port or extended storage.
Typically it seems that during their developmental process, Apple usually identifies 1 feature that would be game-changing and implement it very well,  thus differentiating itself from the other industry players.  For example, it was the focus on the AppStore that made the iphone such an incredible success even though Androids and Symbian phones typically have more hardware features. The Macbook Air went for manila-envelope slim while the 1G Ipad was all about the user –interface: 9.7' Capacitive, glossy IPS backlit colour touchscreen.
Some of the game-changing features and technology that have made news recently are:


3D images without the need for eyewear (like Nintendo 3DS)


Gesture recognition (think Kinect or PS3 move for ipad)


HD front facing camera for Facetime in high definition


Roll-out of 4G services in many countries, enabling even faster download/upload speeds and its facilitation of a comprehensive Apple-hosted cloud computing experience.
 
I'm guessing that one of these will be introduced into the 2G Ipad, even if it means that the 2G ipad launch slips into 3Q or 4Q 2011. Given Apple's leading industry position now, just a statement from Apple to hint at a 2G Ipad launch late 2011 will suffice to kill the sales of any Android 3.0 tablet launch early to mid 2011.