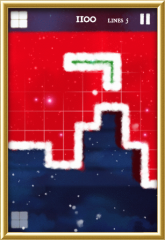 Ljubljana, Slovenia - December 14th, 2012 - Dawn of Play proudly announces the first major update to Dream of Pixels, now with more puzzles, iCloud support and a surprise for Christmas!
12 new features at 12:12:12 on 12/12/2012:
* 40 NEW puzzles -> 100 puzzles total!
* ASK FOR HELP with puzzles and share animated solutions!
* iCloud SYNC for unlocked puzzles and modes!
* SOLVED iPhone notifications hiding the tetromino - now also shown on the bottom left!
* NEW RECORD local high score notification!
* CHRISTMAS surprise (hint: new Classic skin)!
* GIFT this GAME button!
* NOTIFICATIONS of achievement now customized and sliding up from the bottom edge!