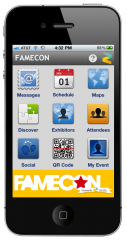 From high-level educational conferences to the largest trade shows, mobile apps for attendees are now expected at events. But do companies want another tool to have to log data into and keep updated?
Zerista, the award-winning event management software provider, gives event organizers the tools to integrate show data from third-party software into Zerista's platform solution and deliver it to any mobile and web device.
This includes: attendee information, conference agenda, interactive mapping, surveys, social networks, exhibitor collateral, and matchmaking tags. All accessible by attendees and exhibitors, and easily updated by the conference team.