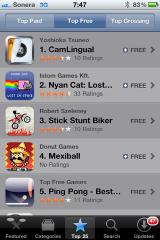 "CamLingual", a photo translation iPhone app, was just released about 3 weeks ago.
And now, "CamLingual" is already the No.1 in Finnish and Japanese AppStore ranking of Reference/Free category, and also No. 1 in Finnish AppStore overall free app ranking.
By CamLingual, you can just take a photo to translate, anywhere, everywhere. CamLingual is the only application that can translate even long sentences within practical time. I'm a Japanese developer living in Finland, and I don't understand Finnish. I basically developed this for me. I believe this is also helpful for others who need/want to read text written in unknown foreign language.