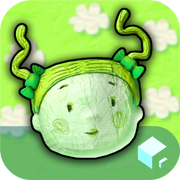 Zoe's Green Planet, the new children's app from Square Igloo, has just been featured by Apple on the US App Store, in the Books category.
Zoe, a little green girl, lives on the green planet. She has never seen any other color on her planet until the day when Maho's family, from the red planet, landed their red spaceship. An encounter that will allow the two children to discover their differences, learn to respect each other and most importantly, to become good friends.
Every page is interactive to make reading more fun and the story includes five original games that contribute to child development: color, shape and sound recognition, and stimulation of dexterity.