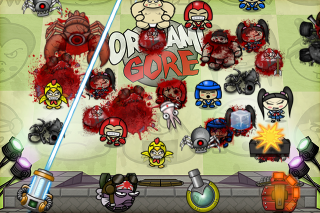 Rosbach, Germany – Skunk Brothers is excited to announce the release and immediate availability of OrigamiGore, an unusual castle defense game for iPhone, iPod touch and iPad.
OrigamiGore, the deadliest and most popular game show in all of Japan chose you as a contestant: You control up to 4 upgradeable turrets to defeat the attacking monsters and defend your castle!
You think you have seen all the monsters out there, don't you? Well, what about giant lobsters, rabid geishas, angry schoolgirls or mad men in chicken costumes, just to name a few? And guess what? They are coming to destroy your castle!