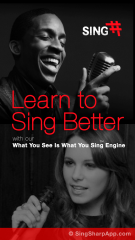 Christmas songs singing lessons ♪ ♫♩♪ …Sing# tunes your singing like a human teacher !!
Sing Sharp's What You See Is What You Sing™ technology shows your pitch real-time as you sing along; you can see if you're singing on-pitch or off-pitch immediately! Sing Sharp allows you to practice your singing technique wherever and whenever you want.
Sing your heart out with confidence, and impress your families and friends this holiday seasons. Practice before you go caroling this Christmas.
This brand new app is FREE, and even professional singing teacher uses it daily to practice for perfect pitch.
In the App:
1) Vocal Range (check and practice to expand your lowest and highest pitch)
2) Warm Up (simple to full scale exercises for all levels singers)