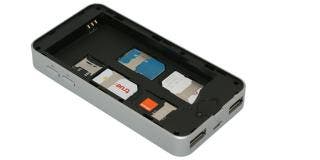 SIMore PowerBlue- Multi SIM Bluetooth Adapter Power case
SIMore PowerBlue is a bluetooth Multi-SIM adapter for Apple and Android devices.
SIMore PowerBlue holds 4 SIM cards, instantly allowing you to add voice calls, sms, internet access, etc., from those cards to almost any Android or Apple iOS smartphone or device via bluetooth.
You can make and receive calls to any of your 4 SIMs cards simultaneously.