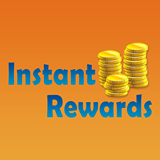 BURLINGTON, N.J., March 7, 2014 /PRNewswire/ -- Flashpoint Media LLC today announced their official launch and the general availability of their Instant Rewards App for the iPad, which enables advertisers and small business owners to effectively harness the power of app usage to connect directly with consumers. The Rewards App is now compatible with the Apple iPhone, iPod and iPad and is available for free at the iTunes Store.
Photo - http://photos.prnewswire.com/prnh/20140307/PH78493
In the first three months of the Rewards App availability, it was downloaded by over 50,000 users, and hundreds of cash payouts have already been delivered. Additionally, tons of reviews state that it's a cool, user-friendly app that makes it easy to earn extra cash.