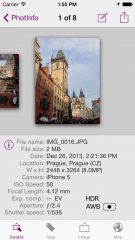 PhotInfo, to control what is written in your photos.
PhotInfo for iPhone®, iPad® and iPod touch® is a simple app to control all the information (location, date, dimensions, camera, etc.) contained in your photos.
I started PhotInfo because I often take pictures with localization services off and I want a simple app to put this information in my photos, taking them from other photos or by inserting an address.