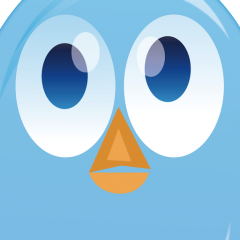 MONTREAL, March 17th, 2011. Pumax is proud to unveil today its latest iOS application. BirdEyes, a new take on sharing pictures through Twitter.
BirdEyes, available on the App Store, takes your pictures and shares them on Twitter in a matter of seconds. BirdEyes allows owners of iPad 2, iPod Touch 4g and iPhone 4 to use their front facing camera, simultaneously taking two pictures instead of one, sharing what they are seeing and who they are.
Whether you're sharing the mouth watering selection of a newfound bistro's menu, taking a live photo tweet of you and the crowd at a concert or the smile of some friends at a local café, BirdEyes shares the magic twofold. Now you can have a side by side shot of the Twitterer and... well, Twittee.