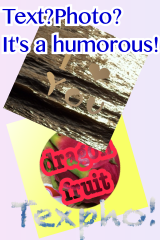 Texpho version 1.1 for iOS : Using Texpho, users can crop a photo or a color image by multi text. This is a free app.
[ An image that will be cropped ]
Select from the camera roll or create a color image.
The color image is possible to make by simple linear gradient between two colors.
Crop the required part with tapping on the button it is on the top right of the screen of text placement.
[ Text to be used for the cut-out ]
Add multiple text.
Select font, font size, outline size, color for the outline.