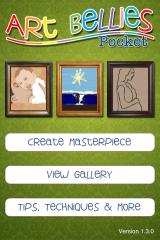 Turn family photos into fine works of art with Art Bellies Pocket Boston
Most famous artists trace. Some use tracing paper. Others use projectors and light boxes. But everyone has his or her own version of the trick. It is much easier to make art from outlines and shapes rather than from starting with a blank canvas.
This is the simple beauty behind Art Bellies Pocket, the powerful new App for the iPhone and iPad that lets any user feel like a professional painter. At its core, it is a tracing program that anyone can use – regardless of his or her artistic abilities. Making fine art really is as easy as taking a picture, tracing the outlines, filling in some color and changing out the backgrounds.