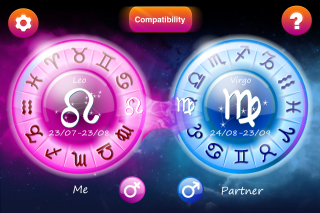 Love Horoscope app knows all about the compatibility of signs, can predict impending rupture or vice versa - tells of a future long and happy relationship. Horoscope does not give advice or hang tags - it just states the facts, based on centuries of experience stellar predictions.
After downloading the application, you will be able to make so-called synastrically card - this is the oldest way to learn about the compatibility of the halves, the projection of personal horoscopes to each other.
Using two colorful rotating wheel, you choose your zodiac sign and the sign for compatibility test. In result you will know the true character of your future relationships with a high degree of confidence.