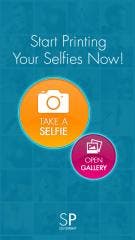 Have you ever taken that perfect selfie and wished, if only there was some way for you to get it printed right away, before you forgot, or accidentally deleted it? Selfieprint may well be your wish come true then.
This app, available for free download, is a selfie lover's delight. It allows you to take your best photographs and get them printed in a variety of sizes.
Imagine a supersized version of your favorite selfie or palfie mounted on a foam board, framed and edited to perfection, delivered at your doorstep. That is exactly what this application offers. This can be the perfect gift for your loved ones, or even a brilliant idea for decorating your boudoir.