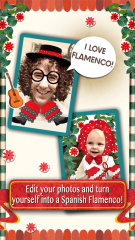 CRAZY FLAMENCO COSTUME BOOTH
A photo app that will turn yourself into an authentic Spanish Flamenco Dancer.
Friday 13, 2013 - Available today, the app "Crazy Flamenco Costume Booth" allow users to edit their photos and turn themselves into Flamenco Dancers by adding a great variety of illustrated stickers: frills, hats, earrings, instruments, and all kind of background elements. This app is brought to us by the Spanish artist Mar Ballesteros and is the first of a series of two Flamenco applications.