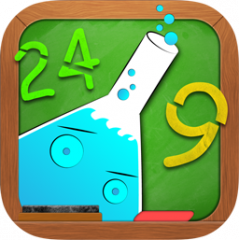 Want to become a math champion? Blackboard Madness: Math makes it easy – all you need is your finger as your sword, your mind as your striking arm and a few minutes of practice each day to hone your lightning-fast math powers.
In this fast-paced and action-packed game, all sorts of math questions will pop up and you'll have to find the correct answer from all the options that fly onto your blackboard. But be sure to stay on your toes; you'll only have a few seconds to slash the correct answer(s) before they fall off the board.
As you slash your way through each level, you'll earn points, badges and achievements for your success. Play for a bit longer and you may encounter a bonus round, an opportunity to rack up even more points!