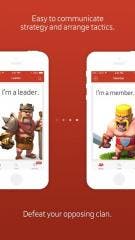 Gamatrix announces Clan Wars Assist: a free tool designed to help Clash of Clans players to win Clan Wars by providing an easy way to communicate strategy.
Clash of Clans, a popular strategy game for iOS and Android, has introduced Clan Wars. However, feedback in the official forum reveals the limited communication way is one of the biggest reasons to lose Wars for many clans.
"Players are missing clan messages when they are offline," says technical director of Clan Wars Assist. "Some clans have members all over the world and they need a better way to communicate."