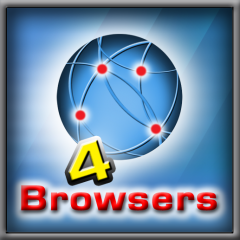 UPDATE OF 4BROWSERS APP TO VERSION 2.5.
4Browsers app for the iPhone/iPad has been updated with improved features and bug fixes.
Apple App Store has many apps that are web browsers. 4Browsers is an app that is designed to multitask 4 different web browsers in a single screen. It came out in April 2011. It was updated to version 2.5 in December with major enhancements.