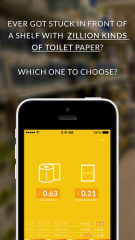 Hello at iPhoneLife!
We just officialy released Toiletka, an iPhone application which helps you calculate the best toilet paper price.
We all know the situation in which Toiletka can help us keep sane. The last stretch of shopping, your cart loaded with tons of things, the final item on your shopping list: toilet paper.
Every brand specifies prices differently: by number of sheets in a roll, by length or total area. Comparing prices of toilet paper packs could drive you crazy. We know this is not the most pressing issue in the world but why not get a little help. Get Toiletka to do the price comparison for you.
How to use Toiletka