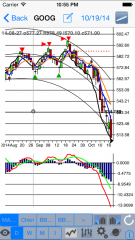 You know me as a ChebyshevTrendPro app developer.
As you know the method is very usable for trending.
The method had been further developed to show trade signals.
But because of curve dynamic nature signals are redrawn and sometimes disappeared and even changed their direction.
The Supersignal method was developed then to increase succesfull trade probability.
However I'm continue to search good trending method suitable for signaling.
And I had took a look at Kalman Filter.