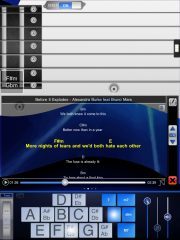 RHYTHM GUITAR - CONCERT EVERYWHERE
Rhythm Guitar is a must have Ipad's app for everyone who loves music and guitar. Suitable for people who love to sing a song while playing guitar, or even Professional Guitarists who want to find a new experience of playing guitar.
Rhythm Guitar is a very fun, interesting, easy and convenient app. All we need to do is pressing a key button (or two buttons) of the intended chord and playing the guitar by strumming, plucking or even chunking its strings. We can also play music for the background. So download and try, then you will never stop playing it.
Features:
- Realistic guitar sounds (distortion – enable).