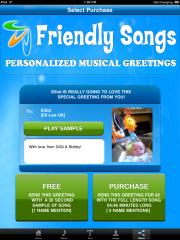 Check out the newest and most unique App of the season, an app that sings a Personalized Message from Santa to the Greeting Recipient for Free.
Send a Greeting That Sings Their Name
http://www.FriendlySongs.mobi/apps/index
Apps are available for iPhone, iPad or as a Facebook app.
Apple Apps were just released on 12/15/11
Brighten your friends Christmas with a Personalized Musical Greeting from Santa! That's right, send a singing greeting from Santa and his Elves that SINGS YOUR FRIENDS NAME. Add a special message and a photo to make it the Best Christmas Card Greeting Ever!
Also Available, many personalized songs for Birthday, New Born Babies and lot's of other occasions. Let's get started by sending one NOW!