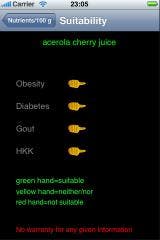 Dietician-iP now with two additional graphs showing a nutritional item's nutrient composition more intuitively.
Dietician-iP is a food data base with over 1000 items.
Take the information with you wherever you are.
Scroll through the list, use the index or search for the item.
Depending on availability 16 macro/micro nutrients are shown.
Display of Mg/Ca and So/Pot ratio.
Display of carbohydrate exchange units (BE/KAE).
Display of item suitability for example for diabetes and obesity.
Energy information as kcal and kjoule.