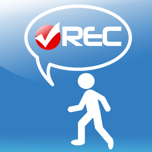 The very best ideas will always hit you just when you can't write them down. Use Say&Go Elements and stop losing those thoughts!
Say&Go Elements is a simple yet powerful ultrafast voice recorder in which recording starts as soon as you open the app. Your voice notes must be short so you can easily share them and use for reminders (including quick reminders set with one swipe). In Say&Go you do not need to tap Record or Stop as it is done automatically. Files can be uploaded to Dropbox, Evernote or e-mail with just one swipe or you can set the app to autoupload your recordings so your notes taken on the road will seamlessly trasferred to your computer.
Perfect for taking notes when driving or when you are generally on the fly.