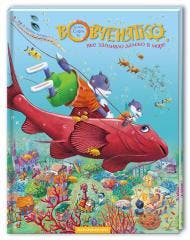 1. Description for iStore:
Have you heard ever that the pup can swim into the sea, there to play with his friends? However he, like you do not know about the terrible sea Monster and on treacherous Sawfish. But very quickly he will learn about it, because it gets to a real whirlwind of amazing underwater adventures ...
2. Description for publishers:
Little wolf is an interactive child's book for iPad/iPad2 based on famous Ukrainian book license. Similar analogies (Disney's books for iPad).
http://iphoneapplicationlist.com/app/id477697513/
· Application based on book: