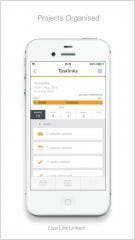 Tasklinks Organiser V2.3 now adds create/edit/link event functions directly in the app and keep your calendars synced.
Along with added mail support we have introduced direct event creation from emails ore email functionality and integrated so that they are automatically added to projects when you link emails. We have also added monthly pull down calendar view based on your user feedback for quick reference and included linked event project colours for a more intuitive experience.
You can download today at:
https://itunes.apple.com/gb/app/tasklinks-mail-calendar-task/id905741759...