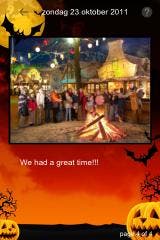 1-Click Photo Album is by far the easiest way to create real photo albums on your iPhone. It overcomes the limited features of the iOS5 albums and gives you great photo albums to show friends and family. Some of the great features:
- Dropbox and Facebook support
- Add text and themes to your albums
- Full screen photo viewer
- CoverFlow to select your albums
Try this free app today and enjoy our great fee Halloween theme!