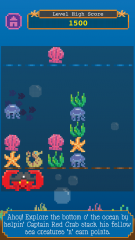 Calling all 8bit and retro gamers! Don't live in the past with games like Tetris and Legends of Zelda. Come visit the future and play Sea Stacking. Sea Stacking is the latest iOS7 gaming application brought to you by SparkNET.
Under the sea on the bottom 'o' the ocean lives Captain Red Crab and his fellow sea creature friends, let's take a closer look at this mysterious world...
You are tasked with helping the Captain earn points by moving him under the board of sea creature columns. Better hurry because the sea creatures begin to drop faster the longer you help the great Captain! Strategically place Pi the Piranha to earn more points for every sea creature she comes into contact with, and don't let the columns of sea creatures get too tall or you'll lose the game no doubt!